Year 2 Trip to Aldershot Military Museum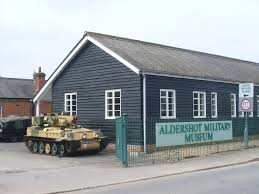 We have arranged for each class in Y2 to visit Aldershot Military Museum for a workshop to learn about a famous historical figure from our local area. The visit will be hands-on and link to our learning in History and Geography this term, as well as providing an exciting cultural experience for the children. As the museum is so small, it can only accommodate one class at a time, so each class will have a half-day visit. Squirrels will visit on Tuesday 4th, Foxes on Wednesday 5th and Badgers on Thursday 6th February. The visits will take place in the morning, during normal school hours.
As the visits are only for half a day, children will have their packed lunch or free school meal as usual in school.
Children will need to wear their uniform as usual on the day.
Letters will be sent home on Friday 17th January. Please complete and return the permission slip and return it with your contribution to school by Wednesday 29th. If you have any queries about this trip, please do not hesitate to contact your child's class teacher.